Jumpseatnews.com - United Airlines flight attendant resources
TVLQCK
Displays detailed layover hotel information.
You type: TVLQCK
You will receive the following response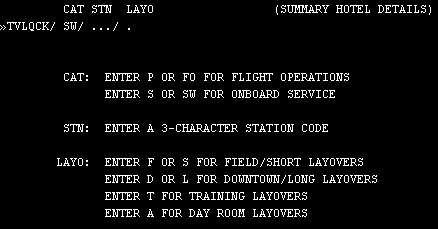 CAT
Leave this one blank for F/A layover hotels.
STN
Enter the 3-character station code.
LAYO
Can leave blank. If you want narrow down the results, then enter in the following:

F or S for Field/Short layovers
D or L for Downtown/Long layovers
T for Training layovers
A for Day Room layovers
You can also quickly type: TVLQCK/CAT/STN/LAYO
Example: TVLQCK/SW/JFK/L
Example of a TVLQCK screen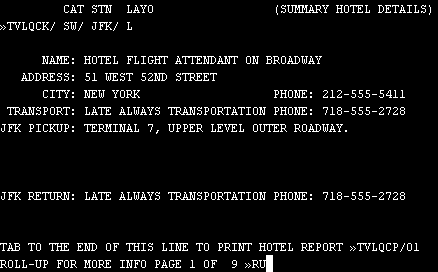 There are nine pages of information for this layover city. Let's take a look at page three: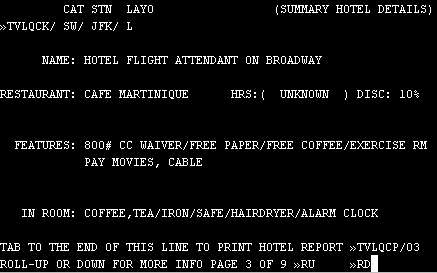 As you can see, some good info is here, such as the 10% discount on food at the Cafe Martinique. This is the kind of page you want to print and take with you on your trip.
Related Commands
| | |
| --- | --- |
| TVLLOG | Use to write up hotel and transportation reports. |
| TVLLST | Displays basic layover hotel information. |
| TVLLSU | Use to display your previous hotel and transportation reports. |
Search Unimatic
Commands
Resources
And now a word from... (what's this?)
Page Updated: August 02, 2005
Printed from www.jumpseatnews.com. Have a nice day!