Jumpseatnews.com - United Airlines flight attendant resources
DIS*38555
Displays Onboard Service F/A Staffing Guidelines Index.
Type: DIS*38555
You'll get a response similar to the following: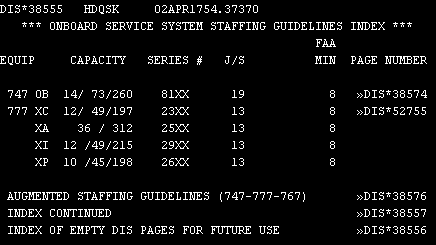 This page will show you the various staffing guidelines for different aircraft. You can tab to the other DIS pages on the right side of the screen for more information.
See also:
Related Commands
None.
Search Unimatic
Commands
Resources
And now a word from... (what's this?)
Page Updated: July 19, 2005
Printed from www.jumpseatnews.com. Have a nice day!