TVLLOG
Use to write up hotel and transportation reports.
You type: TVLLOG
You will receive the following response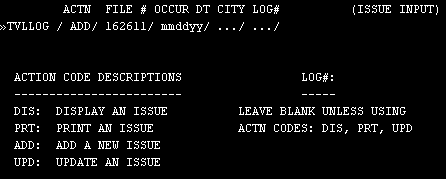 ACTN
Already filled in with

ADD

. You can also replace with codes shown under

ACTION CODE DESCRITPIONS

FILE #
Already completed with your file number.
OCCUR DT
Enter the date of incident.
CITY
Use the 3-character station codes, (e.g. LAX)
LOG#
Leave blank.
Example of a TVLLOG screen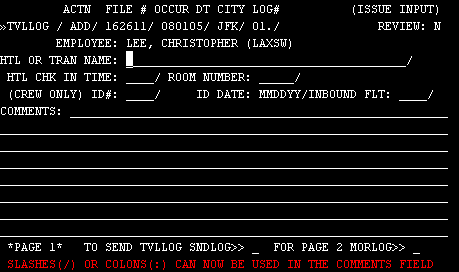 As you can see here, the cursor will be positioned in the HTL OR TRAN NAME field. Here's a breakdown of what to fill in:
| | |
| --- | --- |
| HTL CHK IN TIME | Type the hotel name or transportation company where the issue occurred. |
| HTL CHK IN TIME | Optional. However, AFA needs this information for tracking issues. |
| ROOM NUMBER | Enter the room number if the incident involved a hotel. |
| ID# | Enter the trip ID number. |
| ID DATE | Enter the start date of the trip ID. |
| INBOUND FLT | This field must be completed. |
| COMMENTS | The more concise and professional your comments, the more impact they will have. Always try and include names and times. Remember that TVLLOG will be read by both United and AFA---but is officially a company document. |
Example of completed TVLLOG screen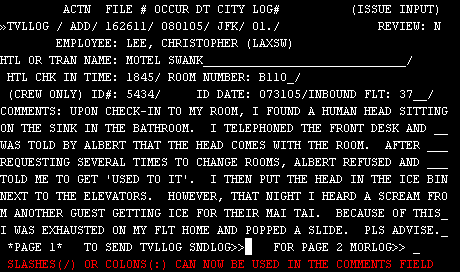 Once your comments are completed, tab to SNDLOG>> and press ENTER. The issue/compliment will be recorded in the Corporate Travel system will be routed to the following individuals:
The AFA MEC Hotel Committee Chairperson.
Your local AFA Hotel Committee chairperson.
The WHQBQ Senior buyer responsible for the region.
Your local domicile manager.
The station manager where the issue occurred.
Important
You have up to thirty (30) days to input up to four (4) issues per day regarding your transportation and lodging. So write these issues up immediately and don't blow the time limit!
See also
Check out these other resources:
Related Commands
| | |
| --- | --- |
| TVLLST | Displays basic layover hotel information. |
| TVLLSU | Use to display your previous hotel and transportation reports. |
| TVLQCK | Displays detailed layover hotel information. |