LOAREQ
Use to apply for a Leave of Absence.

| | |
| --- | --- |
| FILE # | Enter your file number. |
| LAST NAME | Enter your last name. (optional) |
| FI | Enter the first initial of your first name. (optional) |
| DOM | Enter your domicile. (optional) |
You can also quickly type: LOAREQ/FILE NUMBER
Quick shortcut example: LOAREQ/162611
Example of a LOAREQ screen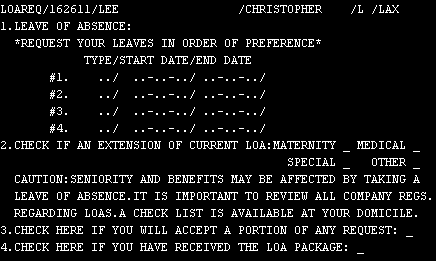 The above example shows the screen in which you can make your Leave of Absence request. Under TYPE, you would enter in SP for Special Leave. You then mark the appropriate dates, check the appropriate boxes, move the cursor to the bottom of the page and press ENTER.
According to the Special LOA packet: "You may request a minimum of two-schedule months time off and up to a maximum of twenty-four months on one request through the LOAREQ screen in Unimatic to be considered when leaves are awarded. Priority will generally be given by seniority to the requests of longest duration on a domicile by domicile basis."
ANP and Special LOA
Any ANP, which adjoins a leave of absence, is treated as an extension to the LOA.
Example: If a 30-day ANP precedes a Special or Personal Leave of Absence, the effective date of the leave is retroactive to the start of the ANP.
Any trip by trip ANP granted proceeding or at the end (i.e., the last day of the previous month or the first day of the following month) of the leave will also extend the leave. Any extension may effect seniority, Employee Pass Travel, and insurance coverage.
Special Note
For most Leave of Absence requests, you should see your supervisor first to get the appropriate forms to complete.
Related Commands
None.