Unimatic and Technical Support
United Airlines Support
If you are having problems, contact the United Support Desk: 1-800-255-5801.
3rd Party Software Support
If you are using a 3rd party software program to connect to Unimatic you must contact the vendor directly:
Bidplus: www.bidplus.com
Crew Companion: www.crewcompanion.com
UALByPhone: www.ualbyphone.com
Unimatic Add On: www.goual.com
VB2000/VirtualBid: www.scottsware.com


Articles
Troubleshoots the most common connection problems with Unimatic.
Here are some computer tips we think you'll find useful.

U

sing ESC ESC 1 2 to view the IBS or ASNSHO screens from home.

All the Unimatic commands.
Complete Unimatic tutorial and info.
Still Cannot Access Unimatic/Apollo?
If, after visiting this Web site, you still cannot access Unimatic/Apollo, then try these ten steps:
Make sure you have a active and valid FlyingTogether account.
Review all the documentation on this site carefully.
If you are getting 'authentication' errors, try and do this »
Check out the technical resources at www.bidplus.com.
Make sure your computer is plugged in. That can solve lots of problems.
Calm down, take a deep breath, and call United for technical assistance if you cannot get the Unimatic screen to appear. Use1-800-255-5801.
Grab a cup of Java and repeat step #2.
Play a quick game of Tetris to get away from this Unimatic/Apollo nonsense.
Throw your computer out the window, and realize that there's a whole world outside made up of lolipops, puppies, flowers, springtime joy and OK OK, then go to Step 10 below:
Go down to the airport and access Unimatic from there---provided you can find a workable printer/computer combination (more luck finding the Lost Ark). Besides, you may as well pick up your paystub and watch the RET slide-raft video anyway.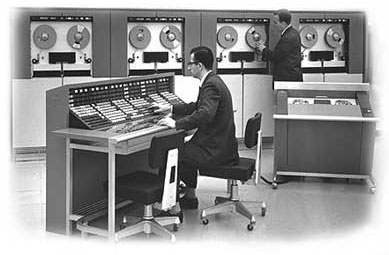 Constructing Unimatic -- Circa 1947
Please note: I did not create the Unimatic system. In fact, United aircraft probably still had propellers when the Unimatic engineers pitched that computer system to United. This was long before Yours Truly was visiting Unimaticland and setting up Aux Galleys.
I'm simply providing as many helpful resources here as possible for the JSN readers. If you know of any other ideas or tips, let me know and I'll publish them. Sorry, but I can not provide technical support via e-mail---you'll need to contact United or the nearest computer geek on an adjacent jumpseat.
Therefore, please use the information contained herein at your own risk! In other words, if you screw up your computer, don't blame us.
Printed from www.jumpseatnews.com. Have a nice day!